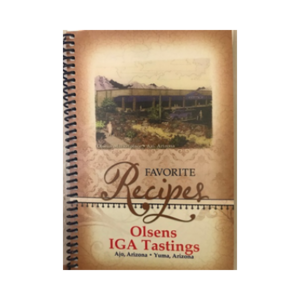 Purchase your copy today!
Get cooking with a collection of recipes by customers, friends, and family of Olsens Marketplace IGA. Our extensive cookbook contains over 100 delicious recipes for cooks and foodies. Order your copy
here
or purchase it the next time you shop at Olsens! 
And don't forget to discover our tasty, hand-crafted offerings, like our Carne Asada, Pollo Asado, Primo Chorizo, and Kammann Sausages when you visit
Sonoran Specialty Meats!